GST Founder's Meeting Held 9/12/17
Granite State Taxpayers honored its founder Meldrim Thomson at a great night September 12, 2017, for thirty or so, old and new members, at Murphy's Tap Room, Manchester NH.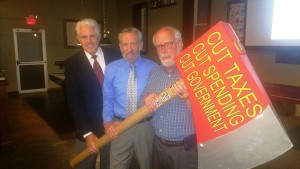 Joining for the honors was Thomas Thomson who gave insight into the tax slashing Governor of NH, 1972 to 1978. Mr. Thomson gave a personal antidote filled presentation of his father's life, and specifically about the Governor's continuing effort to cut spending in order to lower taxes which was inspirational to every tax cutter in the room. Thomas Thomson topped off his presentation by offering a copy of his book on his father's life which was raffled off at the meeting's end.
The agenda was kicked off by the always fun and interesting Former Congressman Chuck Douglas who had a serious message. It is time we return to when Citizen's organizations could sue the NH government for redress. Currently, the New Hampshire Supreme Court has ruled that an organization like the Granite State Taxpayers has no standing to bring suit. Congressman Douglas wants to revert back to when citizen's organizations had standing, just by being citizens.
GST is always working on subjects affecting the Tax payers of NH. Join us to fulfill our mission: "inform, educate, motivate New Hampshire taxpayers and influence the legislature on their behalf."
If these issues sound like ideas of which you want to be a part, JOIN us!!!
Go either to our Membership Page here
Or come to our next open meeting at Murphy's Carriage House, Rte. 101, Bedford NH on December 12th, 2017.
Join NOW!